Notice: Use of undefined constant menu - assumed 'menu' in /home/esolina/domains/esolina.pl/public_html/obiekty/menu_menu-n.php on line 54
Menu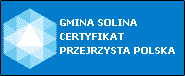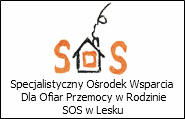 Ścieżka rowerowa
"Polańczyk –Wołkowyja – Górzanka -
Bereżnica Wyżna -Wola Matiaszowa –Berezka –Myczków - Polańczyk"

Początek trasy to skrzyżowanie dróg Polańczyk - Polańczyk Zdrój.
Jedziemy małą obwodnicą w kierunku kościoła. Po prawej stronie szosy mijamy kościół i dalej jedziemy w kierunku Wołkowyi. Zabytkowy kościół, dawna cerkiew z I907 r. p.w. św. Paraskiewii od I948 r., kościół parafialny i zarazem od 1999 r. sanktuarium Matki Bożej Pięknej Miłości z cudowną ikoną Matki Bożej z Łopienki. Przejechaliśmy już ponad 1,5 km i jesteśmy nad zatoką Jeziora Solińskiego, przed nami wspinaczka i dwa ostre zakręty. Czwarty kilometr to koniec podjazdu - droga opada w dół (uwaga zakręt!). Po lewej stronie ponad drogą rozciąga się widok na Jezioro Solińskie. W Wołkowyi na skrzyżowaniu skręcamy w prawo w kierunku Górzanki, mijając po drodze bar i sklepy. W Wołkowyi na rozwidleniu Górzanka - Rybne dróg skręcamy w lewo, przejechaliśmy już ponad 7 km. Po przejechaniu 11,2 km (483m n.p.m.) wjeżdżamy na mostek na potoku Wołkowyjka i po kilkunastu metrach skręcamy w prawo.
Przed nami zabytkowa cerkiew drewniana z I835 r. z częściowo zachowanym ikonostasem, od 1948 r. użytkowana jako kościół katolicki. Na czternastym km jesteśmy już 608 m n.p.m i po ostrym podjeździe jesteśmy przy Szkółkach Leśnych - skręcamy w lewo w drogę szutrową.
Długi i trochę męczący podjazd od Górzanki do Bereżnicy Wyżnej rekompensuje nam przełęcz pod Markowską. Wspaniale widoki w kierunku Bieszczad centralnych oraz pasma Żukowa i Otrytu. Jesteśmy na skrzyżowaniu dróg Baligród -Berezka - Górzanka. Jadąc dalej skręcamy w prawo (uwaga 7 km zjazdu), mijamy po drodze Bereżnicę Wyżną oraz Wolę Matiaszową. W Bereżnicy Wyżnej znajduje się cerkiew drewniana z roku 1830 p.w. św. Mikołaja Cudotwórcy z częściowo zachowanym ikonostasem, od 1948 r. jako kościół.
Dojechaliśmy w końcu do Berezki, gdzie na krzyżówce z małą obwodnicą, skręcamy w prawo i kierujemy się do Myczkowa. Po lewej stronie sklep i zajazd. Jesteśmy trochę zmęczeni, ale przejechaliśmy 23 km naszej trasy. Dalej po krótkim, ale stromym podjeździe z Berezki mijamy Myczków i zaczynamy podjazd w kierunku Polańczyka. Mijamy skrzyżowanie do Soliny, dalej jedziemy prosto pod górkę. W Myczkowie po lewej stronie mijamy cerkiew i kościół wzniesione przez Jana Niepomucena Zatorskiego w 1900 r.
Powoli zbliżamy się do końca trasy. W Polańczyku mijamy hotel i restaurację "Na Górce'' (wspaniałe widoki na Jezioro Solińskie) i po chwili jesteśmy w miejscu, z którego zaczęliśmy naszą jazdę. Zmęczeni, ale pełni wrażeń z naszej wyprawy, myślimy już o następnej eskapadzie.
Baza noclegowa: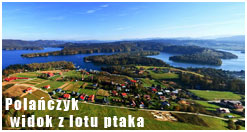 Notice: Use of undefined constant oferty - assumed 'oferty' in /home/esolina/domains/esolina.pl/public_html/obiekty/menu_oferty-n.php on line 102
Oferty